IN-LINE DRAFT INDUCER INSTALLATION
FOR ALL FUELS
AUTO-DRAFT® Inducers assure positive draft when restricted boilers and furnaces, poor chimneys or slight negative pressures in buildings prevent proper exhaust of combustion gas. The venturi action of Tjernlund Auto-Draft Inducers starts air moving smoothly. These units are quick and easy to install and completely automatic in operation. Tjernlund's unique design and durable construction makes them trouble-free and reduces maintenance to a minimum. The Vari-Draft Control permits adjustments to the individual job requirement.
Select a position between draft hood, diverter or barometric damper and chimney, locating the Inducer as close to the chimney as possible. Inducer should be mounted 2-3 pipe diameters away from a directional change, i.e. elbows and tees, so turbulence is not created.

Mount the Draft Inducer on vertical, horizontal or inclined vent pipe. If used on a horizontal vent pipe, mount Inducer on bottom of pipe, not on top, to avoid creating a heat trap in the Inducer.

TYPICAL INSTALLATION

SPECIFICATIONS

---
SIMPLE INSTALLATION

INSTALLATION POINTERS
The motor shaft must be level and horizontal to avoid excessive wear on bearing.
If change in vent pipe size is required, use a tapered increaser or reducer.
In-Line Inducers should be installed on a section of single wall vent pipe in order to assure proper performance.
Do not use In-Line Draft Inducers on condensing heating equipment.
We recommend the use of a carbon monoxide detector in all mechanical rooms.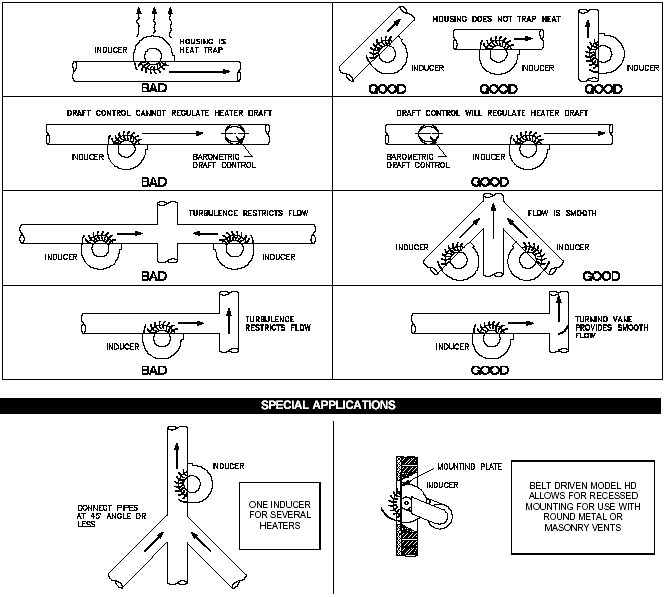 ---